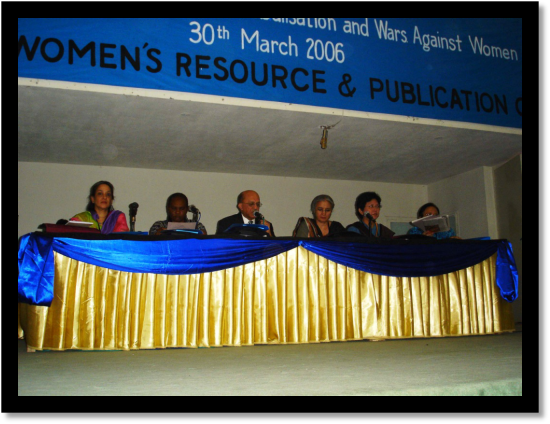 12 Mar

Asia Pacific Advisory Forum for Judicial Education on Equality Issues: Protocol and Management Team Meetings

2007 began with the Asia Pacific Advisory Forum for Judicial Education on Equality Issues [Forum] and comprised three activities viz. (i) the Forum Management Team Meeting, (ii) a Results Based Management (RBM) Training Workshop and (iii) a Protocol Meeting.

These activities were held in Karachi instead of Lahore where Simorgh is based because two of the judges deeply involved in judicial education are currently based in Karachi, thus giving the former a distinct edge over the latter at this point in time. These judges are, Justice (R ) Nasir Aslam Zahid who, among other activities, teaches at the Hamdard Law School, and the Chief Justice of Sindh, Justice Sabihuddin.

The Forum is a regional network of five NGOs and senior judges from Bangladesh, India, Nepal, Pakistan and Sri Lanka that including senior judges from Canada. Policy decisions regarding the Forum's work are taken by the Management Team with concerned NGOs taking responsibility for policy and programme implementation. Drawing upon CEDAW and other human rights instruments, this regional initiative, which completed the first ten years of its life in 2006, was designed to conscientise members of the senior judiciary to women's issues through education on equality issues.

Simorgh's association with the Forum goes back to 1997.

Management Team

The Forum Management Team comprises the following:
Justice (R ) Claire L'Heureux Dubé (Canada)
Justice (R ) Nasir Aslam Zahid (Pakistan)
Justice Douglas Campbell (Canada)
Justice Karim (Bangladesh)
Justice Prabha Sridevan (India)
Justice Dalveer Bhandari (India)
Justice Shrestha (Nepal)
Justice Sheerani Tilekawardane (Sri Lanka)
Justice Nasir-ul-Mulk (Pakistan)
Justice Tassaduq Jilani (Pakistan)
Shirley Campbell (Canada)
Prakash Mani, Pro Public, Nepal
Rokhsana Khondkar, Khan Foundation, Dhaka, Bangladesh
Naina Kapur
Smita Bharti Sakshi, New Delhi, India
Anu Kapoor, Swayam, Kolkata, India
Sumitra Fernandez, Women in Need (WIN) Sri Lanka
Neelam Hussain, Simorgh, Pakistan.